The Consumer Produce Safety Commission announces several recalls in cooperation with the product firms involved.
Recalls include a children's weighted blanket, a bicycle sold at Target, a Samsung washing machine and an adult bed rail.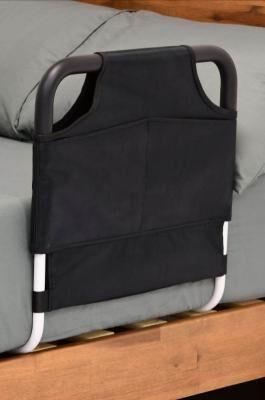 According to the CPSC, the Home Bed Rails by Nova Medical Products could entrap users within the bed rail or between the bed rail and the side of the mattress. "This poses a serious entrapment hazard and risk of death by asphyxiation," states the agency.
This recall involves Nova Medical Products Home Bed Rail (Model No. 6093) and Home Bed Rail with Legs (Model No. 6094). The bed rails are made of white metal tubing with a black foam rubber grip handle and removable fabric cover. The model number is printed on a label located on the grip handle and begins with BL6093 or BL6094.
The CPSC says consumers should immediately stop using the recalled bed rails and contact Nova Medical Products for a free repair or replacement, depending on the model.
The company expects to have the remedy available beginning in March 2023.
The recalled bed rails were sold at AdaptHealth, San Diego Medical Supply, Bellevue Healthcare, CareLinc Medical Equipment & Supply and medical supply stores nationwide from January 2019 through November 2022 for between $55 and $80.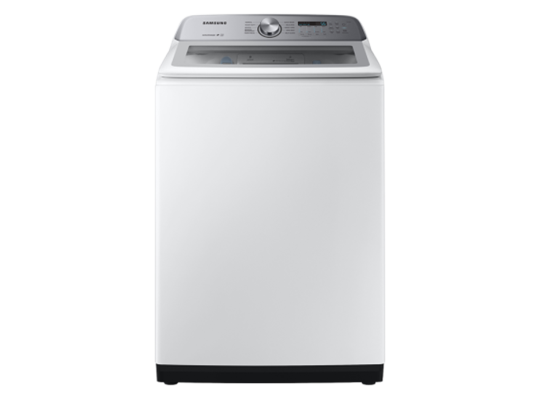 Samsung is recalling its Top-Load Washing Machines that could short-circuit and overheat, posing a fire hazard.
Samsung has received 51 reports of smoking, melting, overheating or fire involving the washers; 10 of which resulted in property damage.
Three consumers have reported injuries due to smoke inhalation.
This recall involves several models of Samsung's top-load washers with super speed wash. The washers were sold in white, black, champagne, and ivory colors and include model series WA49B, WA50B, WA51A, WA52A, WA54A, and WA55A. 
The model and serial numbers are found on the washer's label attached to the inside of the top lid.  An additional label is located on the rear of the washer.
The following model and serial number ranges are included in the recall:
| | |
| --- | --- |
| Model Number | Serial Number Range |
| WA49B5105AV/US | 01J457BT700001W through 01J457BTB00111H |
| WA49B5105AW/US | 01J557BT700001J through 01J557BT700010D |
| WA49B5205AW/US | 01HH57BT300006X through 01HH57BTB00932W |
| WA50B5100AV/US | 01J257BT70001B through 01J257BTB01232B |
| WA50B5100AW/US | 01J357BT770001L through 01J357BT700010F |
| WA51A5505AC/US | 01HA57BR700003P through 01HA57BTB00346F |
| WA51A5505AV/US | 01H257BR600003R through 01H257BTB02018L |
| WA51A5505AW/US | 01GY57BR600026P through 01GY57BTB00269W |
| WA52A5500AC/US | 01HB57BR700003Y through 01HB57BTB02968X |
| WA52A5500AV/US | 01H357BR600006A through 01H357BTB01820Y |
| WA52A5500AW/US | 01H457BR600003X through 01H457BTB01503Y |
| WA54A7305AV/US | 01H557BR600003P through 01H557BR800650T |
| WA55A7300AE/US | 01H057BR600001H through 01H057BTB05872Z |
| WA55A7700AV/US | 01H157BR600151Z through 01H157ZT700005K |
The CPSC says consumers should immediately check whether their washer's software has been updated to prevent the hazard; and, if not, consumers should immediately stop using the washer until the software is updated.
Instructions on how to check whether a washer's software has been updated can be found here https://www.samsung.com/us/support/tlw-sw-update.
The items were sold at Best Buy, Costco, The Home Depot, Lowe's and other appliance stores nationwide and online at Samsung.com from June 2021 through December 2022 for between $900 and $1,500.
Target recalls some weighted blankets because a young child could become entrapped by unzipping and entering the blanket. The company says it poses a risk of death by asphyxiation.
A 4-year-old girl and a 6-year-old girl reportedly became entrapped in the cover of the weighted blanket and died due to asphyxia at Camp Lejeune, North Carolina in April 2022. Target has received four reports of children becoming entrapped in these weighted blankets, including the two fatalities.
CPSC and Target are urging consumers to stop using the recalled weighted blankets immediately and contact Target for a refund.
This recall involves Pillowfort Weighted Blankets.  The blankets weigh 6 pounds, measure 60 inches long and 40 inches wide and have a removable, waterproof, washable cover. The blankets come in eight prints or colors including unicorn white, space navy, pink, blue, gray, buffalo plaid red, blue constellation, and unicorn pink.
Item numbers 097-02-0140 (Unicorn – White), 097-02-0148 (Space Navy), 097-02-0361(Pink), 097-02-0363 (Blue), 097-02-0364 (Gray), 097-02-1603 (Buffalo Plaid – Red), 097-02-3904 (Blue Constellation) and 097-02-3905 (Unicorn – Pink) are printed on the fabric tag attached to the removable covers of the blankets.
Target exclusively sold the recalled weighted blankets at Target stores nationwide and online at www.target.com. The blankets were sold from December 2018 through September 2022 for $40.
The Consumer Product Safety Commission says the bicycles in this recall pose a fall hazard. 
Pacific Cycle says the handlebar of its Kids' Ignited and Bubble Pop 20-inch bicycles can become loose during use.
The model numbers of the recalled bikes are 201230TG and 201231TG. They are located on the seat tube where it meets the bottom bracket.
The CPSC says consumers should immediately stop riding the recalled bicycles and contact Pacific Cycle to receive a free repair kit, which will contain a bolt, nut, washer and grease packet with instructions to apply grease to the bolt.
The firm has received 23 reports of incidents of the bicycle's handlebars becoming loose during use. Ten injuries involving bruising and abrasions have been reported. 
Target stores nationwide and online at www.target.com from July 2020 through September 2022 for about $140.